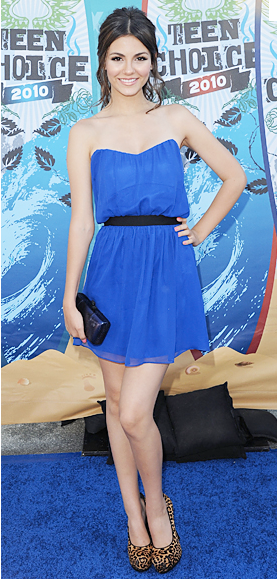 When Victoria and I decided on this dress for her 2010 Teen Choice Awards look, there was just one issue: the dress had a giant, elastic seam right at the natural waistline that looked rather odd. A lot of dresses have elastic at the waist, and for good reason. Showing off your waist is always figure flattering, especially in photos or on camera. However, these seams, in my opinion, tend to make the dress look a little sloppy. I always like to use a belt on my clients to cover this. It just makes everything look a lot cleaner and more chic.
If it's for a photo shoot or on tv, an easy thing to do is to throw a belt on backwards and clamp it in place. Of course in real life you can't have a buckle with a clamp hanging out in the back of a dress. It also has to be the right width. Too thin doesn't cover the seam, and too thick can cut you right in half.
I searched and searched for days to find the perfect belt to put with this dress, and never found one. The morning of the awards show, I woke up with an idea that caused me to sit straight up in bed. I would go buy a black grosgrain ribbon and sew hooks and eyes on it! And that's exactly what I did.
I took my darling husband to International Silks and Woolens (if you live in LA it is an amazing one-stop-shop) and bought ribbon, hooks and eyes, sticky boobs, and extra top stick for my kit. I had to be at Victoria's house to get her ready by 1:30, which meant I had to leave my house at 1. We got back to my house at about 12:30. I have never watched anyone hand sew anything as fast as Cory sewed this belt together. He measured the belt on me (Victoria and I are almost the same size so we just guessed based on my measurements), hand sewed a hem on each end of the ribbon, and then sewed on the hooks and eyes. When I tried it on her it was perfect!
So ladies, I strongly suggest to you that you all go out and buy a black grosgrain ribbon, some hooks and eyes, and go nuts. A $5 ribbon belt that you will use over and over and over and over again. :)