I've been a TV fanatic since I was a little kid, and because of that, I am probably one of the few people who truly loves watching the Emmy's. It's probably the most relaxed and fun of the big awards shows! In years past, the Emmy's haven't typically boasted the red carpet heavy hitters, but with such huge shows like Mad Men, Modern Family, and True Blood, this year has changed that.
Not that anyone actually cares, but for those of you that do (read: Mom and Dad), I give you my best dressed list:
Honorable Mention: Dianna Agron in Carolina Herrera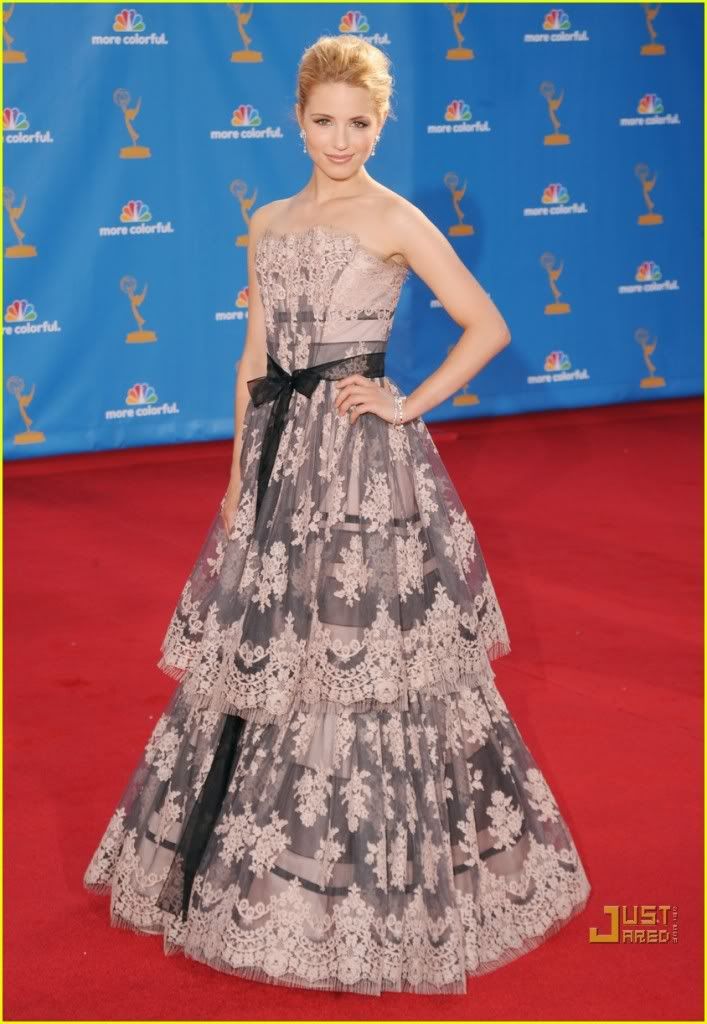 When I saw Dianna Agron making her Emmy red carpet debut, my initial thought was what a gorgeous dress this is. It wasn't my favorite of the evening, but I love that she stood out from the crowd and took a risk with that dress. Overall it is a great look on her, and she really made a great first impression.
#5- Lea Michele in Oscar de la Renta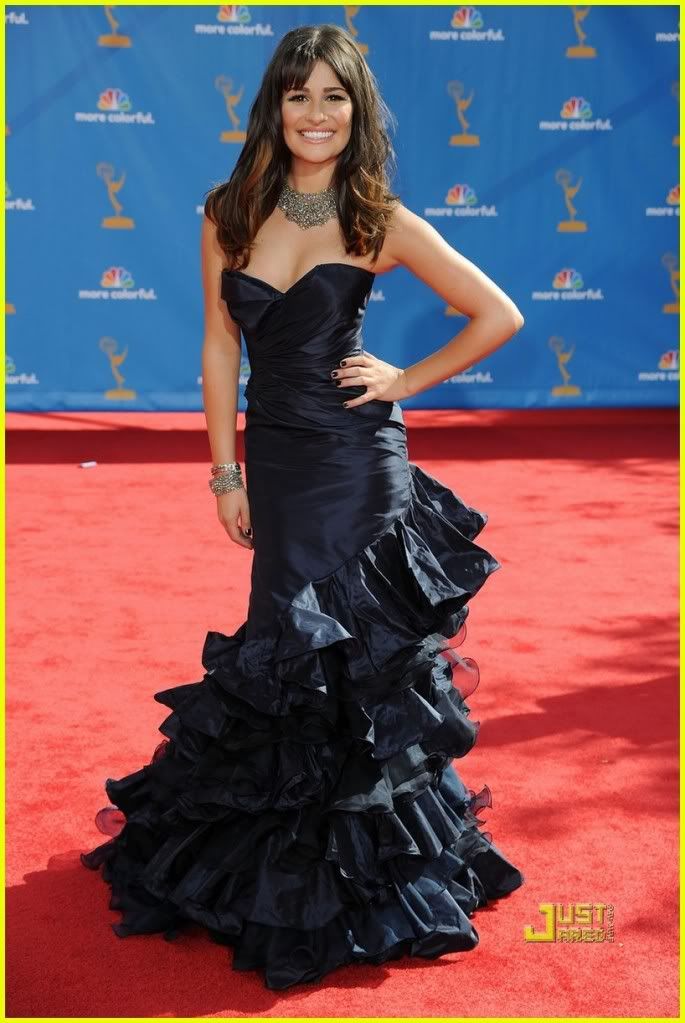 I'm always very on the fence about Lea Michele's red carpet choices. Sometimes I feel like she's a show stopper, and other's I feel like she completely misses the mark. It's nothing on her, or her stylist, just my own personal opinion. However, this is one of the times where I think she looks really great. The entire look just reads very put together and fabulous-- the dress, the color, the fit, the hair and makeup, the nails, the jewelry, etc. While all those ruffles aren't really my style, for a young girl who's on a fun show like
Glee
, I think it's perfect.
#4- Heidi Klum in Marchesa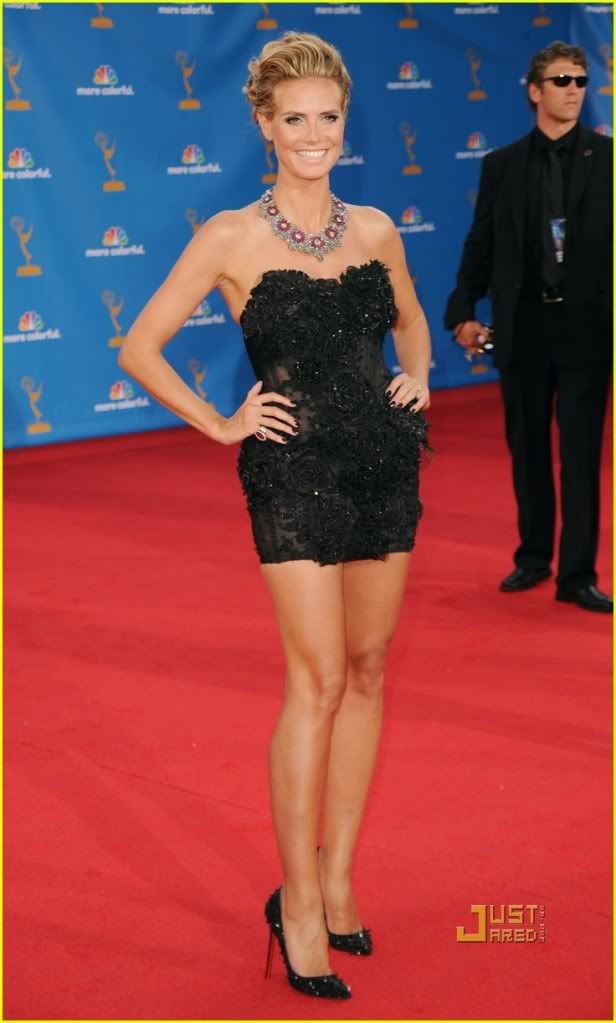 A lot of people weren't feeling this dress on Heidi; saying it was too short and expressing their fear of a "wardrobe malfunction," or saying that it wasn't right for the Emmy's. But I LOVED it on her! They call her "The Body" for a reason!! This woman has had four kids and owns every mini dress she puts on. That my friends, is confidence. If she were a young starlet or someone starring in a dramatic mini-series, I would agree that this wouldn't be an appropriate Emmy option. But kids, she's a supermodel who is on a fashion reality show, so I think this'll work! And boy did she work...
#3- Rose Byrne in Gucci
I am a huge fan of Rose Byrne's red carpet choices, and this time was no different for me. First of all, it's the last big awards show of the summer and the white Grecian look is an amazing choice for this. You have to give homegirl props for making sure to cash in on wearing white before Labor Day (although I am an advocate of ammending that rule, we can all agree that most media would still make comments if she wore white after Labor Day). The metal accents of the dress and her undone-updo give it a little bit of Rose Byrne edge, so that it's not too pretty or fixed.
#2- Claire Danes in Armani Prive
When I think of Claire Danes, I always think of the dowdy, serious roles she plays (and girl plays them well!). But on Sunday night, when I saw her strut her stuff onto Ryan Seacrest's platform, my jaw hit the floor. She looked stunning. The color on her was so refreshing and eyecatching, and even though the dress was full length sparkles, I didn't feel like she was too over the top. Her hair and makeup looked fabulous as well. I want to see more looks like this from her!
And now, here's my number one. Although I'm sure 80% of people will disagree with me, as a fashion stylist, I am standing by it.
#1- January Jones in Versace Atelier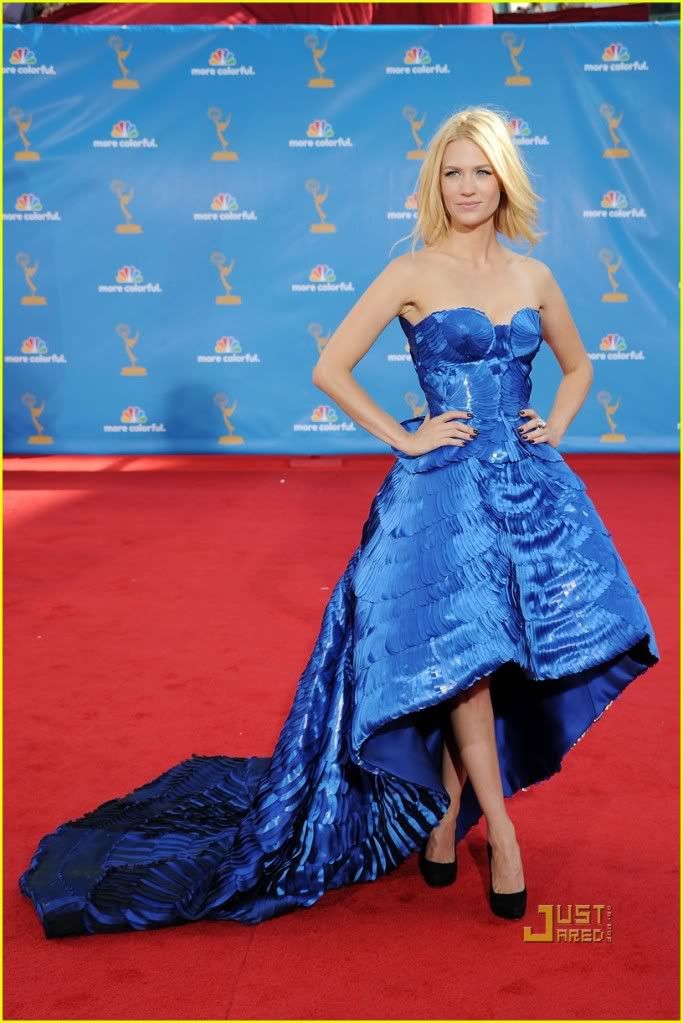 January Jones literally stunned the crowd this year at the Emmy's (whether they were stunned by her beauty or in hatred for the dress is up for debate). First of all, she OWNED this look. Even though she probably knew most people didn't get it, she still rocked it, and that can make even the worst dress look amazing. The color was so fresh and gorgeous on her, and the cut was very fashion forward but still fun. I LOVED her hair and makeup as well. I think if she would have done a polished, super-fixed hair-do, it would have majorly taken away the effortless and cool vibe that she had all night. I love that she A) is naturally that fabulous and effortless simultaneously. She doesn't have a stylist and she doesn't need one, which I know might be weird for a stylist to say, and B) doesn't give a f**k what the mainstream media thinks. She wears what she wants and kills it every time, and that is why she can get any dress she wants.
So there are my pics for Best Dressed of the night. What did you guys think? Who were your best dressed pics?